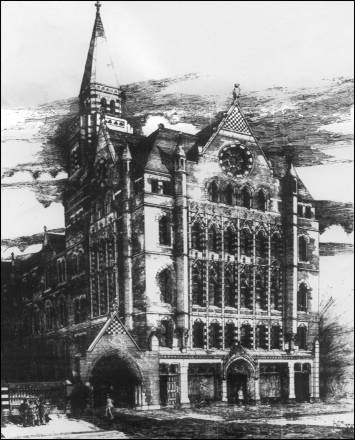 A rendering of the Metropolitan Gas Company building by its architects Reed, Smart & Tappin (reproduced from Building & Engineering Journal , 17 September 1892).
This five-storey building, with St Paul's Cathedral, Chapter House and the Diocesan Offices, forms an impressive group of late-nineteenth century Gothic Revival buildings on the corner of Flinders and Swanston Street, at the southern gateway to the city. Erected as the head office and showroom of the Metropolitan Gas Company, it was one of the city's largest and most notable buildings at the time of its completion in 1892.
The Metropolitan Gas Company was created in 1878 after the amalgamation of several of the city's gas companies. Melbourne 's gas supply had begun decades earlier during the prosperous gold rush years. In the early 1890s the Metropolitan Gas Company, in order to accommodate its growing number of staff, decided to build a new head office. After considering several locations on which to build, it chose a site at 196 Flinders Street and secured a fifty-year lease of the land from the Trustees of St Paul's Cathedral.
St Paul's Cathedral
This part of Flinders Street has had a long association with religious worship in Melbourne. The settlement's first religious services were conducted from a tent under a large gum tree near this site in 1836. Later, surveyor Robert Hoddle provided the land on the northeast corner of Swanston and Flinders Street to the Church of England (Anglican Church) for the site of a cathedral. The cathedral was completed in 1852, but was later demolished and replaced by the present St Paul 's Cathedral opened in 1891, which was designed by the eminent English architect William Butterfield. After a dispute with the Church in 1888, Butterfield resigned as architect and the Melbourne architect Joseph Reed, of the firm Reed, Smart & Tappin supervised the works in an honorary capacity.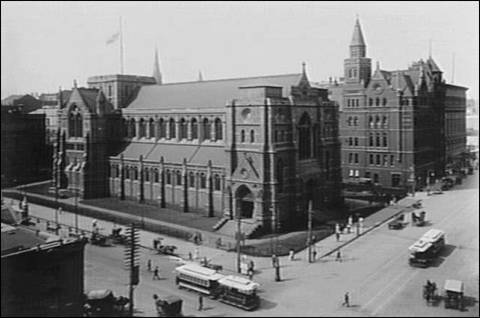 The Metropolitan Gas Company building (at right) was designed in a Gothic Revival style to harmonize with St Paul 's Cathedral (at centre). This photograph from c1914 shows the cathedral without its spires. These were added during the 1920s.
(Photograph reproduced from the Picture Collection, State Library of Victoria ).